Belarus has hosted one of the grandest events of the tennis world. On November 11-12 the Fed Cup 2017 final was held at Minsk's Chizhovka Arena, thousands of fans came to support team Belarus at the tournament. The national team was playing against the USA, who had played in the final of this tournament 17 times before. Belarusian tennis players went through to the final of the Fed Cup for the first time and they showed a truly worthy game Belarusians can feel proud of.
Belarus 'tennis star Victoria Azarenka could not take part in the Fed Cup 2017 final due to some family problems connected with custody of her son Leo.
SEE: Why is Azarenka out of Fed Cup 2017 final?
Nevertheless, Victoria contributed a lot of effort into the development of Belarusian tennis; she went through a long way from the matches of group I of the Euro-African zone in February 2015 to the final match of the World group in November 2017. In February 2015 team Belarus together with Azarenka won matches against tennis players from Georgia, Bulgaria, and Portugal. Then the team won in the match against Great Britain, therefore, the managed to make it to the World Group II Play-offs. In April 2015 Belarus made it to the World Group II of the Fed Cup due to the efforts of Victoria, by winning in the match against Japan in Tokyo. In 2016 Victoria couldn't make it to Canada, it caused many negative comments from the fans. Nevertheless, the girls of the national tennis team managed to overcome the difficulties without Victoria. Belarus then had a match with Russia in Moscow. Victoria then brought two winning points to team Belarus. Not many then new, that Victoria at that time was already pregnant. Victoria also was together with her team at the half final against Switzerland.
Before the Fed Cup 2017 final she did not forget about team Belarus. Belarusian tennis player Victoria Azarenka promised to support the national team of Belarus in the Fed Cup final against the US team with all her heart. She wrote this in her Twitter account.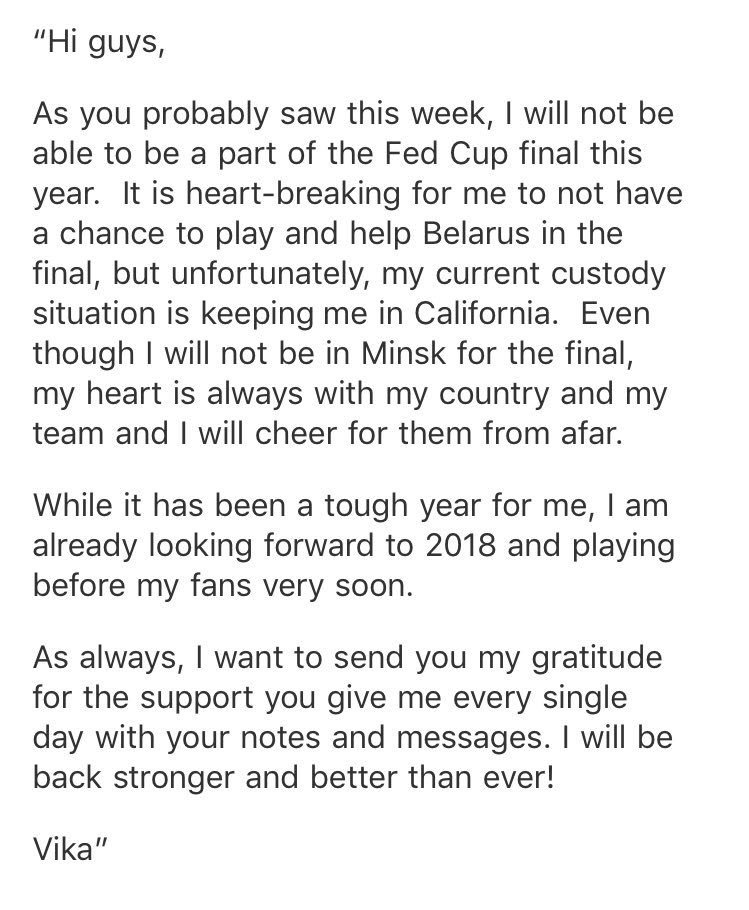 After that she decided to record a video for her team.
"Hi, everyone. It may be one of the most important events for our country, for Belarusian tennis, the Fed Cup2017 final. Our team has made a long way from 2015 for this event to happen today. Unfortunately, I cannot be part of this event, but I am feeling worried about my girls so much. We have a young team with big potential, and I am happy that this potential is the one we will build the history of Belarusian sport with. I wish them great luck.
I will be supporting them with all my heart and I know that they can win.
The girls have proved many times how much of their heart they contribute into the matches , therefore it is really exciting for me to watch them playing and I hope that they will win this title and we will be able to defend it together next year. I hope that all of you will have a wonderful weekend with great tennis. I love my team, I am missing my team and I cannot wait seeing their success".
Victoria's son Leo was supporting team Belarus together with his mum. Only the doubles match determined the winner of the Fed Cup 2017 final. Nevertheless, nobody knows what the result would be if Victoria could play for team Belarus in the grand tennis tournament.
Photo: twitter.com/vika7